Catering on board
Travel has become part of our lives whether it's for work or leisure. In this day and age, travelers expect quality service from their preferred travel providers. As the global travel industry continues to grow, airlines and cruise lines need to scale up to make food service systems more powerful, operations smarter, staff more productive, and customer experiences more exceptional.
EGS Enggist & Grandjean Software (EGS) will do just that for you – we don't just support your business, we advance it.
The airline and cruise line industries face the constant challenge of delivering high-quality meals to thousands of passengers daily. Preparation of meals onboard a private flight, commercial plane, or cruise ship requires a smart digital solution that can be utilized by the global network to eliminate operational inefficiencies and deliver impeccable cuisine to customers.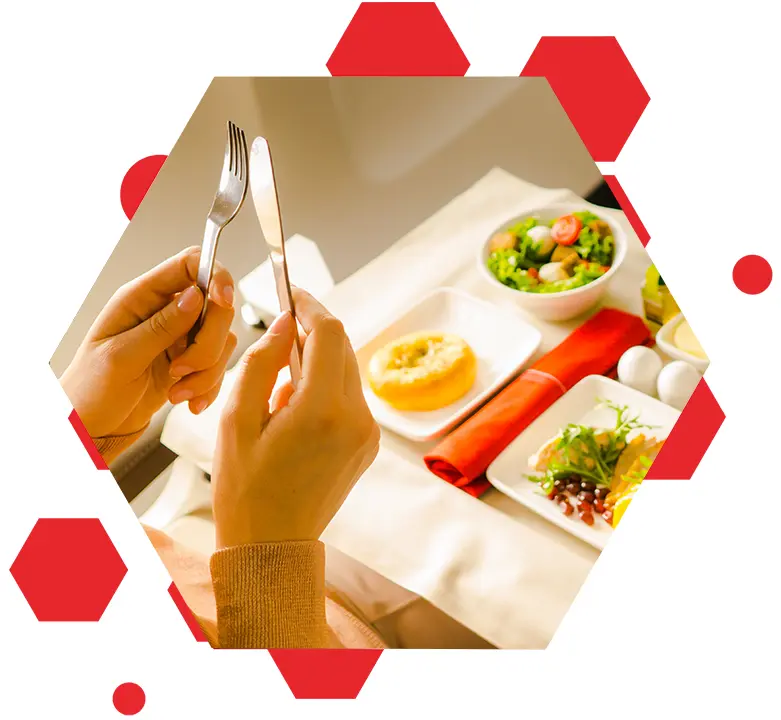 We developed our advanced system, EGS CALCMENU Web, which helps you manage a centralized recipe database for kitchen production within a central kitchen headquarters and across different geographical locations to use and follow standard nutrition calculator recipe procedures, portioning, and presentation for meals.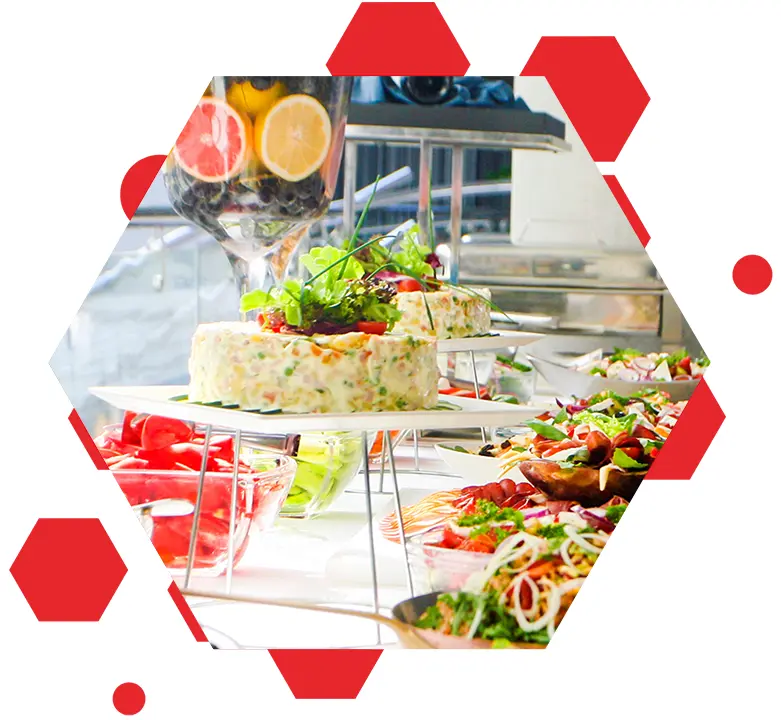 Whether you're preparing a specialized menu showcasing your onboard chef's culinary skills for first-class passengers, planning creative meal options that sets you apart from your competition, deciding on your daily specials for the week, or creating a menu for a long-haul journey that includes breakfast, lunch, and dinner, we provide catering solutions that manage your food and beverage service by route length, travel class, and other consideration.
You can prepare menus and meal cycles with sufficient time for crucial ingredient sourcing and food costing. With the best information available, meal providers can overcome multiple catering challenges and customers' special requests. Information can be accessed both onboard or offboard — suitable for kitchen production targeted for inflight catering and food service on cruise ships.
Our solutions are guaranteed to provide ease of use in managing recipes, menus, nutrients and allergens, and more.
Optimizing Catering with Digital Tools
Our solutions integrate and digitize different parts of your workflow to propel your business forward. EGS CALCMENU Web is designed to meet the specific needs of your guests based on seating or passenger class, dietary preferences, and even consider your crew.
It features merchandise, recipe, and menu management at an enterprise level and centralizes your recipe management on one server while maintaining the unique needs of multiple sites. These sites are your individual aircraft or vessels and food outlets or restaurants.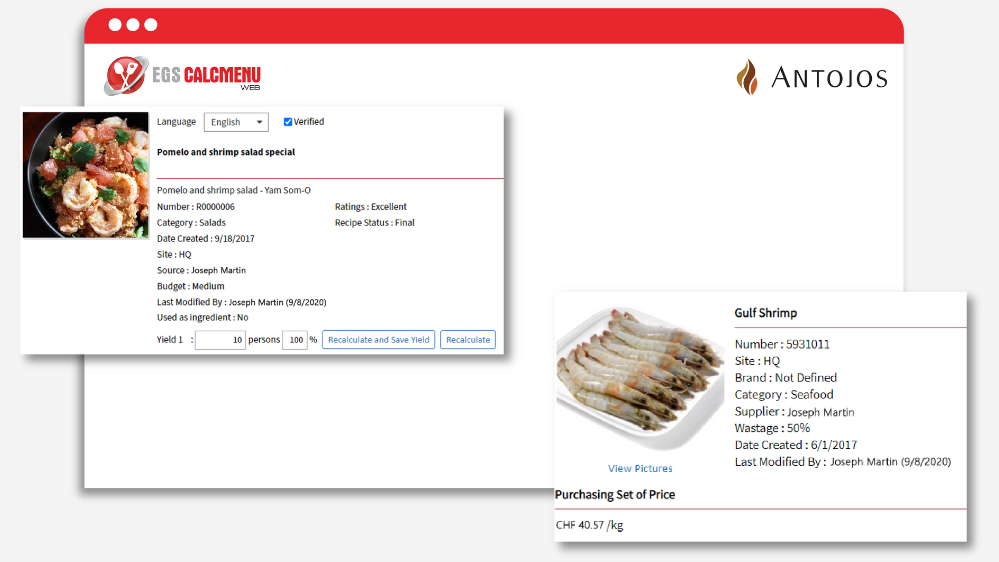 Our web-based system will enable Headquarters (HQ) to manage, create, add, edit and delete recipe data. Users with administrator or admin rights can then assign user roles and configure sharing recipes and menu plans based on the aircraft, vessel, food outlet, restaurant, a specific voyage, or season.
HQ will always be "super administrators" who have overall access to EGS CALCMENU Web and other interfaces. Your existing accounting and procurement systems can be interfaced with our solution to ensure that pricing for ingredients or what we call "merchandise" is regularly updated.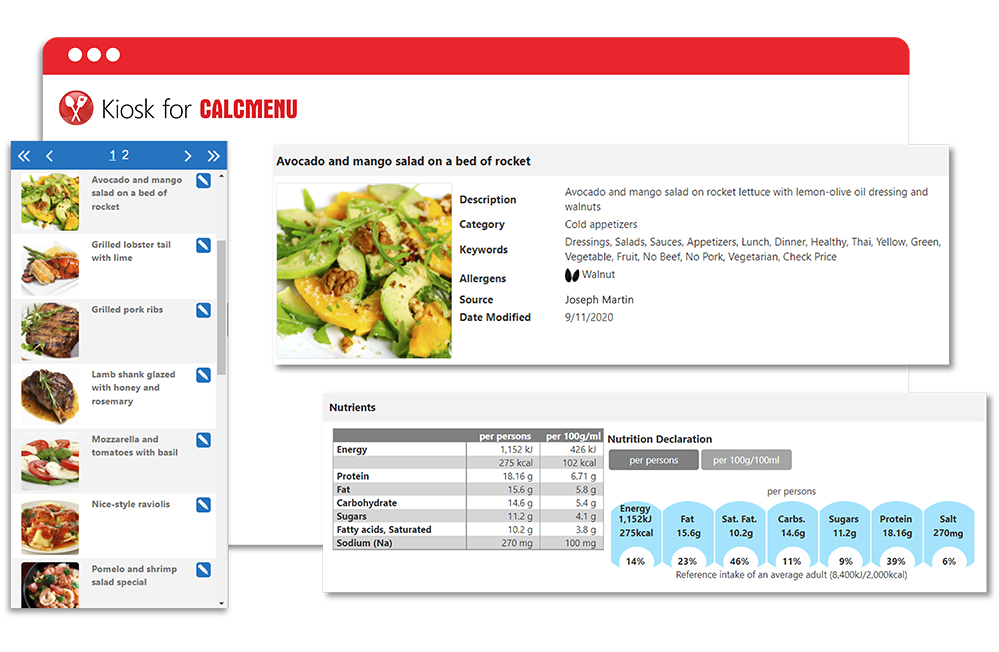 Kiosk for CALCMENU
Crew inflight and aboard vessels can access the Kiosk for CALCMENU – a light application powered by HQ's EGS CALCMENU Web, replicating data and managing recipe-sharing at a site level.
The Kiosk for CALCMENU can be installed on your onboard devices such as computers, laptops, tablets, and mobile phones. Our application will enable your inflight or offshore users to access recipes shared specifically for their aircraft or vessel even without an internet connection. This allows your chefs to access recipes and menus anytime, anywhere to cater to any request and ultimately provide the best-in-class catering services to clients.
Onboard users will be able to view, print, and resize recipes. Chefs can also create Shopping Lists through the Kiosk for CALCMENU to generate a list of ingredients and quantities, with corresponding costs, to consolidate the items required for onboard food production per voyage.
The Shopping List can also serve as a market summary of items for purchase and later on be used as a list to replenish consumed items when sent back to HQ. With access to more information, your planning is more efficient, your consistency is ensured, and your overall process is optimized.
Here's a closer look at what else you can achieve using our intelligent solution, EGS CALCMENU Web.
Empower HQ to collaborate with teams to create and modify recipes on any online workstation
Enable inflight or onboard staff to access recipes and menus without an internet connection through the Kiosk for CALCMENU
Integrate data from other systems into one data repository
Calculate food costs accurately when updating locally purchased products
Create menu plans based on categories such as aircraft or vessel number or name, restaurants, voyage, etc.
Replicate standardized recipes from HQ to aircraft, vessels, restaurants, etc.
Automate Shopping List creation when onboard
Integrate with suppliers for purchasing and requisition
Get automatic updates between HQ and aircraft or vessels when connected to the internet
Monitor food safety methods through HACCP features on the recipe level
All hands-on deck | System Integration
We understand the need for seamless workflows, which is why we designed our solutions to integrate with your existing ERP Systems to link recipe ingredients or merchandise to supplier information for definite data accuracy and up-to-date food costing.
This integration optimizes the synchronization of supplier prices and recipe units based on markets or zones.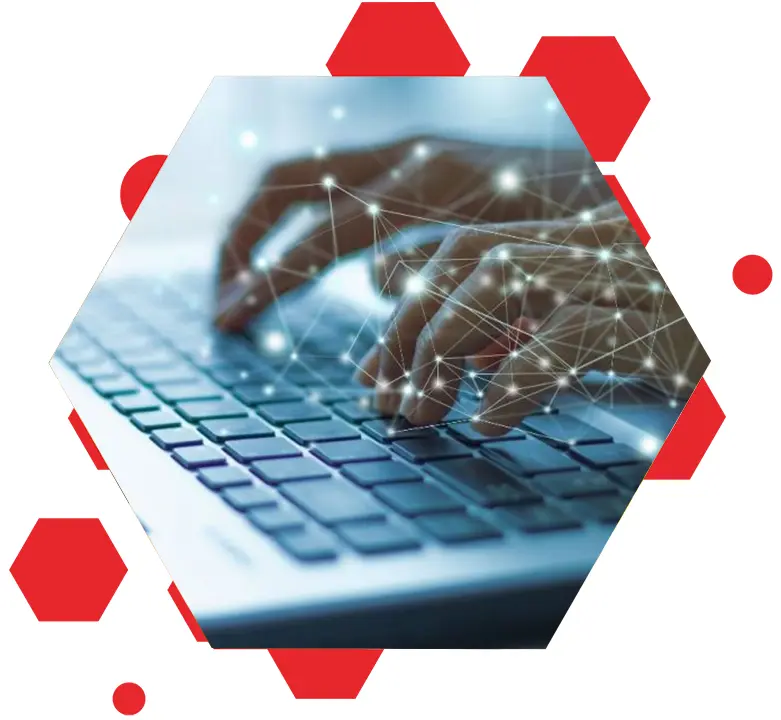 Tech, Travel, and Beyond
Technology continues to play a crucial role in the travel industry. By using tech innovations, individuals can enjoy a more personalized travel experience.
With technology at the forefront of business growth, even caterers, meal service providers, and other travel operators are turning to software solutions to automate day-to-day administrative tasks, increase efficiency in food production processes, and achieve overall guest satisfaction.
Since companies operate on different models, there is no longer a "one-size-fits-all" solution that will meet the unique needs of each business. EGS CALCMENU Web is highly customizable based on your specific requirements and workflows and is already equipped with advanced features. We also provide specialized services to complement our digital solutions. These include: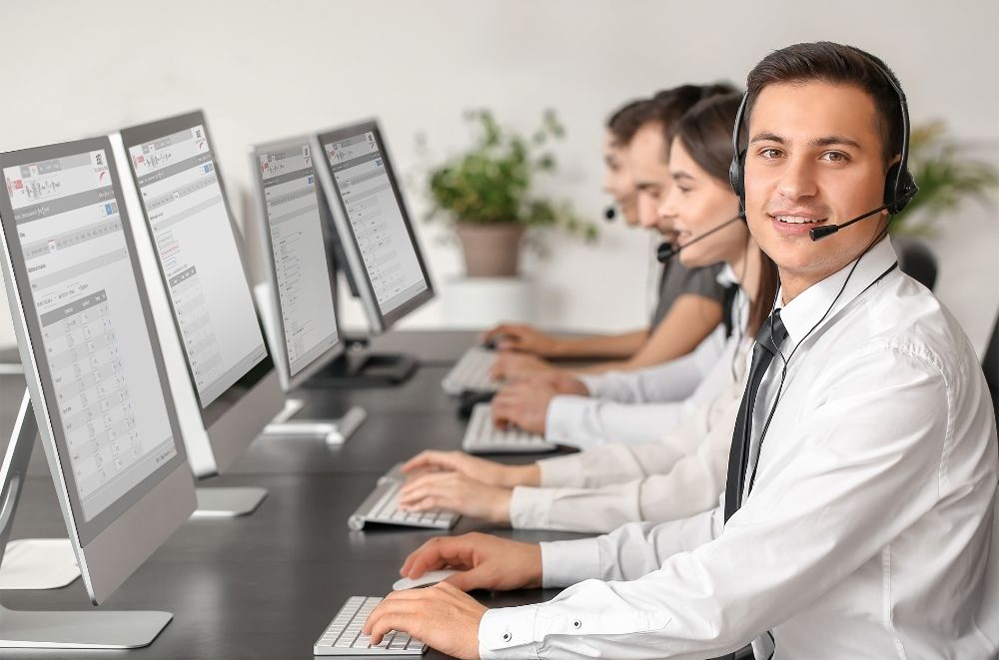 Advanced Data Management Service (ADMS)*
We eliminate the tedious task of manual data entry. Save time and money by letting our data experts encode your data in EGS CALCMENU Web, using only the best industry practices and strategies by availing of our Advanced Data Management Service (ADMS).
With ADMS, your recipe ingredients and procedures are standardized, errors are minimized, and accurate recipe information in multiple languages is provided for you and your kitchen staff.
*May be subject to additional costs.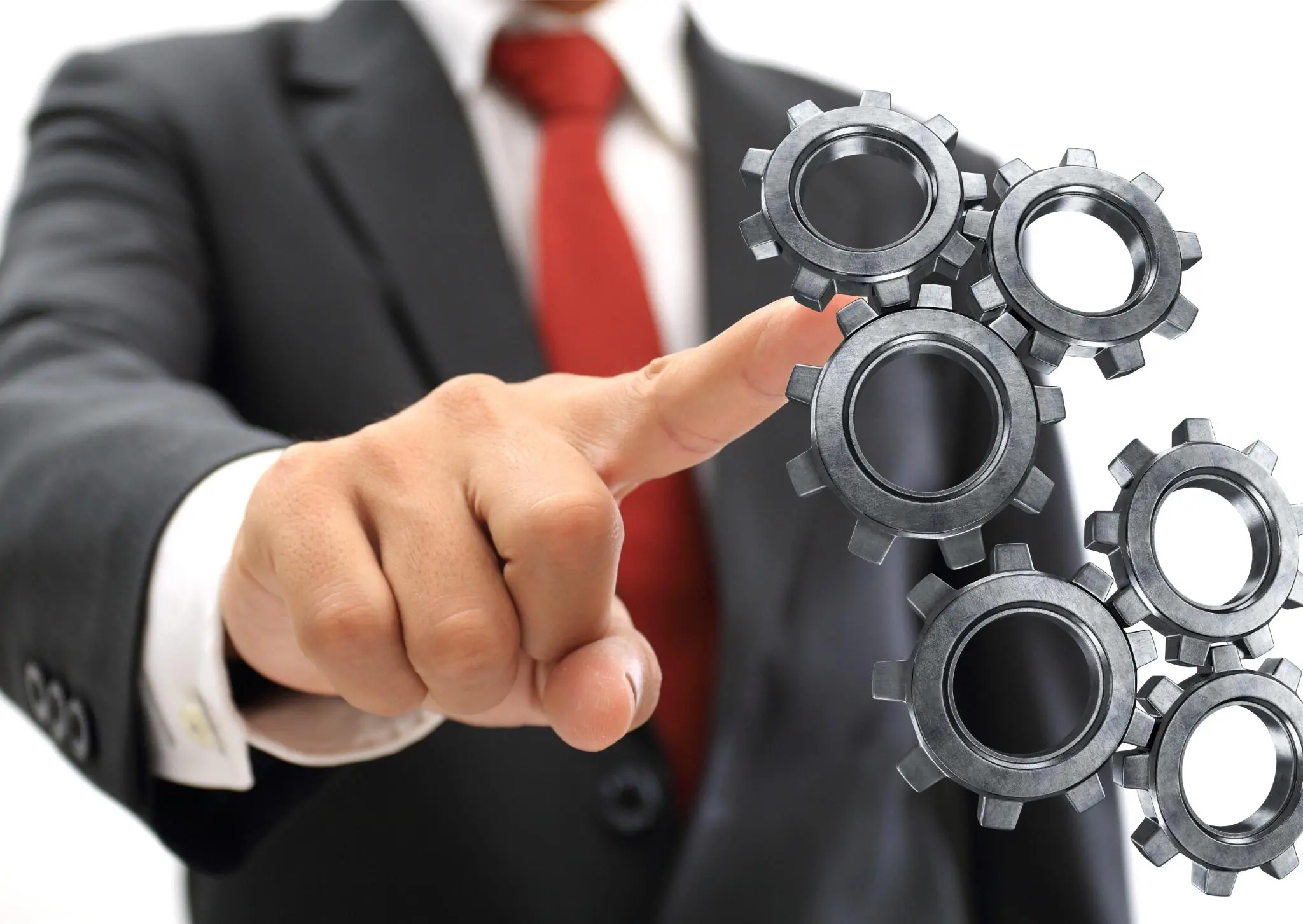 System Integration and Interfaces*
We can integrate with a specific website or various websites to enable you to access data remotely with the goal of providing content to these sites.
Our solutions can also be linked to any ERP, SAP, supplier systems, or other software solutions. The interface manages the linking and integration of data into our recipe management software.
*May be subject to additional costs.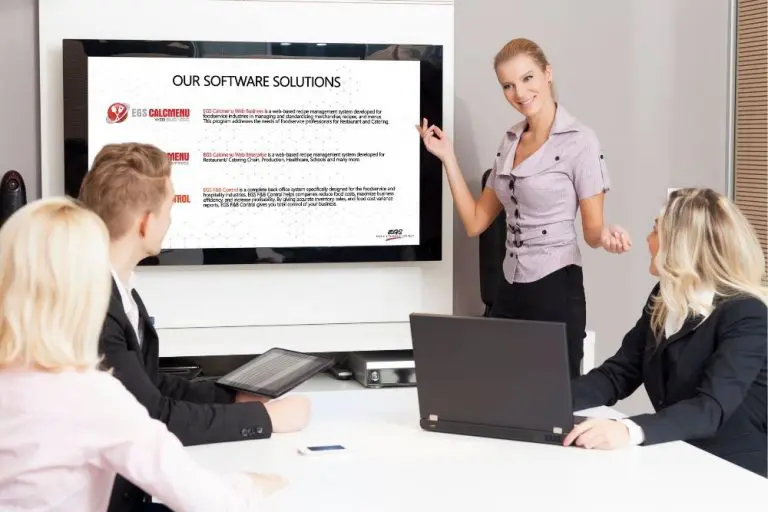 Business Process Review (BPR)*
Increasing industry competition means that businesses like yours must continuously strive to implement best practices and keep up-to-date with the latest industry innovations.
We can assist you through our various consultancy services to find the best possible software solutions and implement new technologies to optimize your operational framework.
*May be subject to additional costs.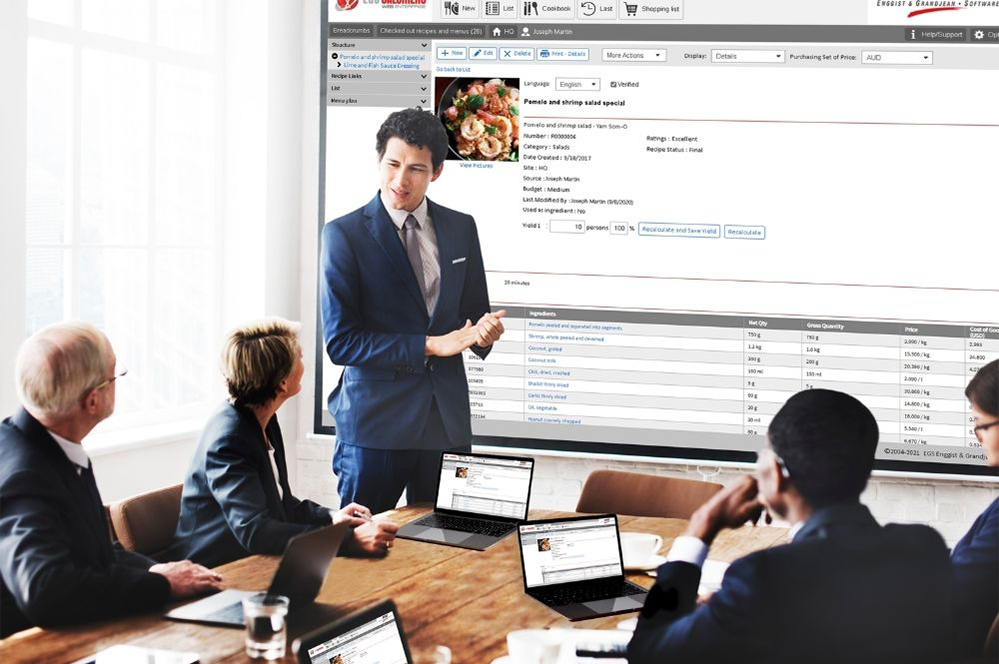 User Training*
When you implement a new system, investing in ongoing training is a wise choice. Training employees contributes to the success of the system migration, provides essential kitchen management tips, and ensures that all users are taught specific skills and are familiar with the right tools to improve kitchen operations.
Achieve maximum efficiency and schedule additional online training sessions with our subject matter experts, today.
*May be subject to additional costs.